ASCENT
ready-to-assemble CLOCK KIT: $169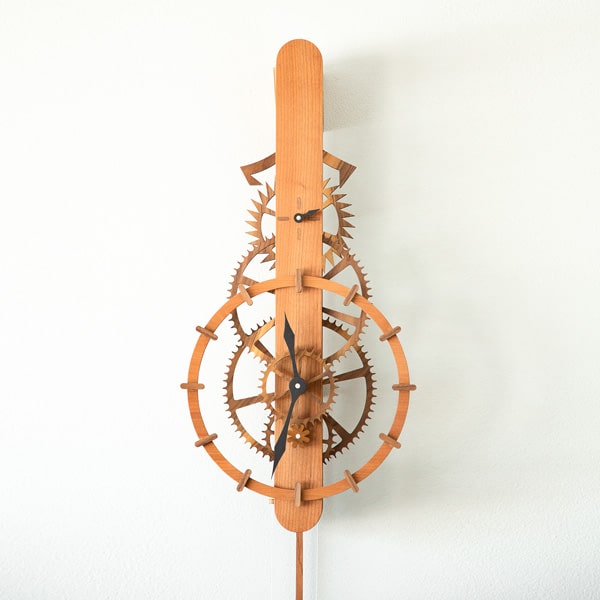 Ascent: a rising upward; a moving from a lower to a higher state. This clock is called the Ascent for two reasons.  While it is natural to first look at the hands and dial of any clock, the Ascent draws your eyes upward from the dial through the moving gears, to the visible escapement rocking back and forth.  But also, the Ascent represents an upward journey; crafting a working clock brings a sense of accomplishment and a feeling of advancement.
This wooden clock is about 26″ tall with a 12″ diameter dial.  A 3.5 lb weight drives the wooden mechanism, which is regulated by a 44″ pendulum.  The clock runs for over 24 hours per winding, making it a '1-day' clock.
Like all of our wooden gear clocks, the Ascent kits are manufactured from high quality hardwood-veneered MDF. You can personalize your clock by selecting a wood for the frame  (maple or cherry) and for the gears (maple, cherry, or walnut).
CUT YOUR OWN CLOCK KIT

If you have some experience with the scroll saw and would enjoy cutting the parts yourself, check out our cut-it-yourself options.