TRANQUILITY
Ready-to-assemble CLOCK KIT: $174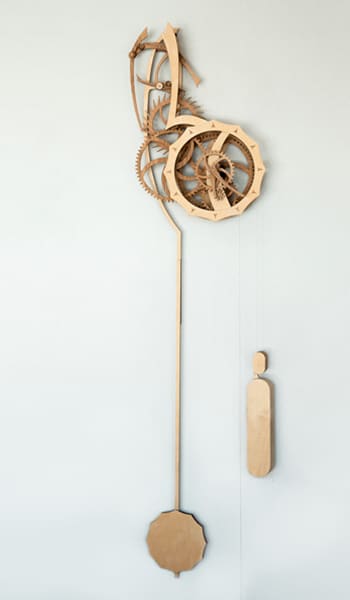 Tranquility: calm, peaceful, quiet.  The Tranquility clock gets its name due to its grasshopper escapement, which causes the clock to run almost silently. In addition, the gentle, loping movement of the pivoting escapement arms evokes a sense of soothing calmness.  
The Tranquility wooden gear clock is a unique departure from our other clocks because it features a 'grasshopper' type escapement, a design based on the famous creation of John Harrison in the late 1700's. This unique escapement attracts your attention as the hinged arms catch and release the escape wheel teeth.
The Tranquility Clock runs about 26 hours per winding. It is about 19″ tall, 5″ deep, and about 12″ wide. It is regulated by a 48″ pendulum and is driven by a 4 lb weight.
Like all of our wooden gear clocks, the Tranquility kits are manufactured from high quality hardwood-veneered MDF.  You can personalize your clock by selecting a frame wood (maple or cherry), then choosing a wood for the gears (maple, cherry, or walnut). 
CUT YOUR OWN CLOCK KIT
If you have some experience with the scroll saw and would enjoy cutting the parts yourself, check out our cut-it-yourself options.